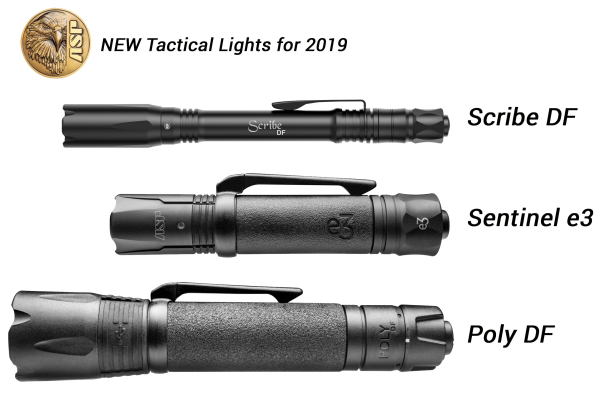 Because there is no such thing as having too many backup options on the street, ASP has introduced its first triple-fuel flashlights—the Sentinel e3 and Sentinel X e3. These lights ship with a 16340 lithium-ion battery that recharges inside the light, providing a potent 400 lumens of output. If you don't have the time or place to recharge, just swap out the rechargeable battery for a CR123A disposable cell. No CR123? No problem—you can also put in a common AA battery in a pinch, with no special adapter needed. You give up some lumens as you work your way down through the backup battery options, but you'll stay up and running. Like all ASP lights, the Sentinel is designed for real-world simplicity, with all light modes accessible via a single tail switch: A half press turns the light on in momentary mode, a full press/click takes it to constant-on. The "Double Tap" feature activates a low light setting on the Sentinel, or a strobe on the Sentinel X. These lights are also compatible with ASP's optional hands-free, rotating Tactical Light Case, available separately.
MSRP: $95
Shipping: February/March 2019
Video: https://youtu.be/B-im04Uf7TM
New Scribe DF—High-powered, Dual-Fuel Every Day Carry Flashlight
ASP's original Scribe AAA light has become a mainstay tool in the company's international tactical training programs, thanks to its combination of high performance and pocketable form factor. The new DF variant of the Scribe pushes the output even further—to 350 lumens—while adding the benefit of Dual Fuel technology. It ships with a 10900 lithium-ion battery that recharges inside the light, or you can swap the rechargeable out for two readily-available AAA disposable cells if you don't have time to recharge. Other features include "Double Tap" low light setting, a multi-mode tail switch with momentary or constant-on modes, tri-color charge status and battery capacity indicator, and a tough new forged steel pocket clip.
MSRP: $85
Shipping: Now
Web: https://www.asp-usa.com/collections/every-day-carry/products/new-scribe-df
Video: https://youtu.be/tBMQCSF1WrM
New Poly DF— Lightweight Polymer Duty Light
The latest version of ASP's lightweight, all-weather polymer duty light ups the performance ante again, putting out 525 lumens with a range of over 200 meters. The polymer housing is molded around an aluminum core, for added strength and thermal management. ASP's "Double Tap" feature drops the light down to a 15 lumen low setting, with just a quick second press of the tail switch. The "DF" designation stands for Dual Fuel—meaning the light can be powered by either the included 18650 rechargeable battery, or by two optional CR123A primary (disposable) cells. ASP's trademark 3-position rotary tactical tail switch offers constant, intermittent and locked modes, and in-light recharging is monitored by an onboard charge status indicator. Finishing touches include an exclusive foamed-vinyl grip surface, flexible weather-sealed charge port cover, and removable pocket clip. The Poly DF is also compatible with ASP's optional hands-free, rotating Tactical Light Case, available separately.
MSRP: $115
Shipping: Now
Web: https://www.asp-usa.com/collections/duty/products/poly-triad-usb
Video: https://youtu.be/SnXbGBZB6F8