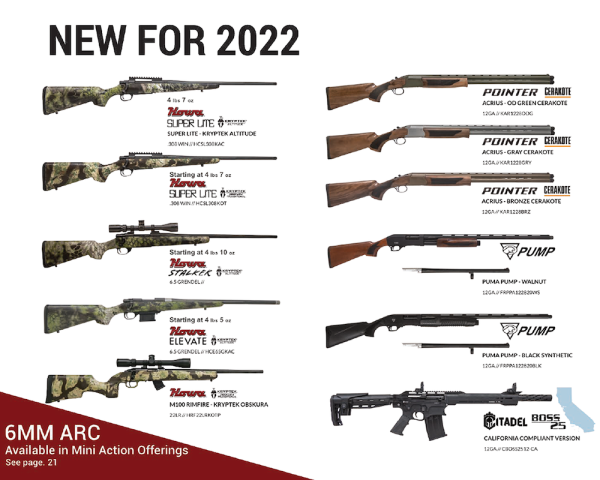 Legacy Sports International is excited to announce the arrival of a variety of exciting new products for 2022 that will impress hunting and shooting enthusiasts worldwide. Here is a sampling of the HOWA selection Sportsmen can look forward to in the outstanding selection of carbon fiber lightweight rifle offerings across the board from HOWA in 2022 that incorporate the excellent STOCKY's Carbon stocks.. such as the new HOWA SUPERLITES – coming in at an amazing 4lbs -7oz featuring a newly sized HOWA platform that is in between a Mini action and a Short Action. Then there is the new HOWA CARBON STALKER KRYPTEK ALTITUDES – in Mini, Short & Long Action - starting weights at 4lbs -10oz up to 6lbs-4oz. Additionally, there is the HOWA ELEVATE Series of rifle offerings (Carbon stock / Carbon barrel) in Mini Action, Short Action and Long Action All with the mindset of a Tough, Lightweight, Reliable, Sub MOA Accurate and AFFORDABLE rifles for today's hunter. For more details on ALL of the New Products from Legacy Sports International for 2022 please see the impressive list below and the links that are provided for your additional insights.
NEW PRODUCTS for 2022…
• HOWA SUPERLITE – 4lbs – 7oz
• HOWA CARBON STALKER KRYPTEK ALTITUDES – 4lbs -10oz to 6lbs-4oz
• HOWA CARBON ELEVATES -
• HOWA RIMFIRE KRYPTEK OBSKURA
• HOWA new caliber offering - 6MM ARC' s – in mini actions !
• POINTER ACRIUS CERAKOTE Over Unders
• PUMA – WALNUT PUMPS
• PUMA – SYNTHETIC PUMPS
• CITADEL BOSS 25 California Model
• HARDY Switch Barrel offerings
Click here to view the 2022 NEW PRODUCTS Page on our website.
For more information on all of the NEW PRODUCTS offerings and the rest of the LSI product line or to request a FREE 2022 catalog, please call 775 828 0555 or view online here.